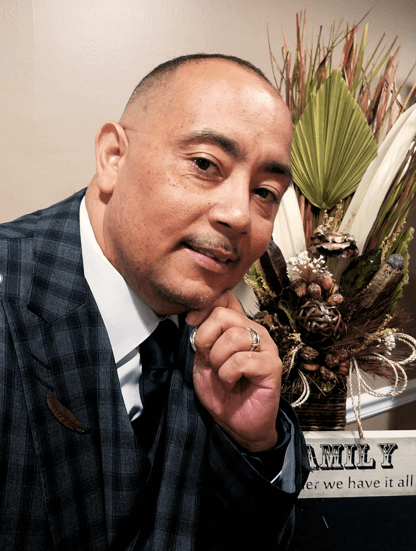 Minister (Elect) Mark Bailey Sr. was born on July 14, in Boston, Massachusetts. His family moved to Santee, South Carolina where he received his childhood education in the Orangeburg County School System graduating from Elloree High School. After high school, Minister (Elect) Bailey attended Morris College receiving his Bachelor of Science Degree in Business Management. Currently, he is pursing his Master's Degree in Human Resources Management from Trident University International in Cypress, California.
Minister Bailey was raised in the Church of Our Lord Jesus Christ of the Apostolic Faith in Holly Hill, South Carolina. Young in age, Minister Bailey thirsted for more knowledge and understanding of the Word of God which allowed him to make the best decision of his life. He accepted the invitation to be "saved" and received Jesus Christ as his Personal Savior. He was baptized in 1978 at Briner Christian Church in Holly Hill, South Carolina and continued to learn about the Lord. As he ventured out into the world, he found himself needing to reconnect to his "life source." In 2003, he rededicated his life to Christ at Gospel Temple Church of God in Christ in Savannah, Georgia, under the leadership of Pastor, Dr. Larry Murray Sr. As God continued to speak to His servant, Minister Bailey finally acknowledged and accepted the calling over his life to be a "Spokesman" for God.
He was found faithful in his commitment to God and licensed as a Minister, which licensed him to preach the gospel, in 2017, Unity Christian Fellowship International (UCFI) Ministries Inc., by Apostle Nelson K. Williams.
He was not only a Soldier for the Lord but also a Soldier for the United States Army. He served successfully in the Adjutant General branch for over 20 years. This allowed him to travel across the world and be involved with several churches with different denominational backgrounds. He served in several ministries within the church, such as: Men's Ministry, Men's Usher Board, Pastor's Aide, Finance Committee, Armor Bearer, and Intercessory Prayer Warrior.
Minister Bailey married the love of his life, Prophetess, Dr. Sabrina K. Bailey. They are the proud parents of Kaytrenequa "Kay-Kay" (Richard) McFarland, Mark (Daisy) Bailey Jr., and Tyrone Bligen III; the proud grandparents of DeMaarius, Khairoe, Josiah, Elaynah, Yannis, and Novah McFarland; the Spiritual-parents of Tianna and Anais Soto; the God-parents of Kyonna, Ellisha and Janiyah.