Minister Kaytrenequa "Kay" McFarland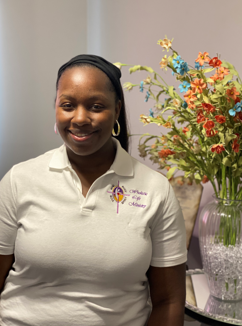 Kaytrenequa "Kay" McFarland
Minister Kaytrenequa "Kay" McFarland was born October 25, in Shaw Air Force Base (Sumter), South Carolina to Sabrina Kay (Fludd) Bailey and (Bonus Dad) Mark Bailey Sr. She was educated all over the world growing up in a military family. With a final completion in the Commonwealth of Virginia Department of Education, Minister Kay received her high school diploma (with honors) from York County School Division Bruton High School, Williamsburg, Virginia.
She earned her Medical Billing & Coding Certification from Ultimate Medical Academy, Clearwater, Florida and Medical Administrative Assisting Certification from Allied American University, Laguna Hills, California.
Minister Kay's love for cooking and baking came from her maternal great-grandmother, Mrs. Albertha "Sadie" Fludd, better known as "GRANNY." Granny taught her how to put her love and care in the hearts of those that she serves any meal to. If you want to find Minister Kay, just look for the "Honey Bun" cake which is one of her famous desserts.
Growing up in a house where God was always the head, Jesus was always the center, and the Holy Spirit always lead, Minister McFarland learnt from a young age how to pray and stay connected to what kept the family together. She received Jesus Christ as her personal Lord and Savior at an early age in Savannah, Georgia while attending Gospel Temple COGIC.
Minister Kay present role in ministry is the Youth Minister at Wholistic Life Ministries. She has served in many capacities of the ministry such as: Minister, Children's Ministry, Youth Ministry, Culinary Ministry, Hospitality Ambassador, Youth Choir, Praise & Worship Member, Praise Dancer, Women's Ministry, Usher, and Audio & Visional Ministry.
After acknowledging who she was in Christ and to whom she belonged to Minister Kay McFarland was found faithful in her commitment to God.  She is licensed as a Minister which licensed her to preach the gospel as of June 23, 2019, Unity Christian Fellowship International (UCFI) Ministries Inc., under the leadership of Pastor, Dr. John "Jay" Jones, Wholistic Life Ministries, Kennesaw, Georgia.
The Lord has blessed her to fall in love with and marry her sweetheart, Minister Richard McFarland.  She is a proud mother who enjoys watching her children blossom. An awesome sister that can be called upon at any moment. A faith cousin that is more like a "Big Sister." A wonderful niece that is loved by all of her aunts and uncles. A gift from above to her parents to love.