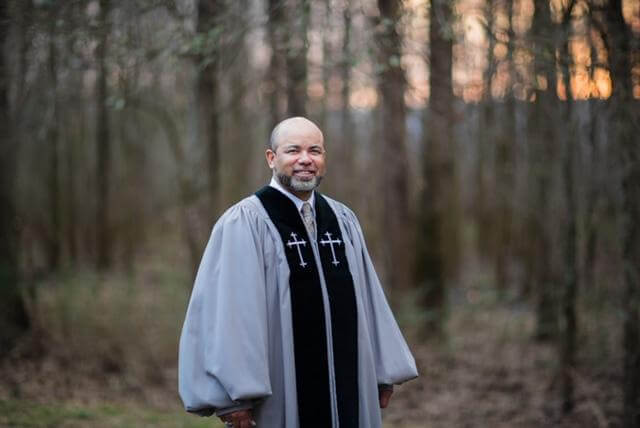 Social Distancing:  No Pain, No Gain! 
Romans 8:18 – For I reckon that the sufferings of this present time [are] not worthy [to be compared] with the glory which shall be revealed in us.
In this scripture, it starts out with a country saying, I recon.  Paul Sounded like somebody from my neck of the woods in Texas.  Let me interpret that.   In other words, I concluded after my calculation, I imagine, I believe, I think.  Then it talks about the suffering, the persecution, the special trials and the tribulations we have to go through.  Of the present time speaks about then and now.  Are not worthy to be compared – in other words, nothing in comparison.  With the Glory – the happiness and honor.  Which shall be revealed to us – It shall be disclosed to us. 
So I'm shouting to the top of the highest mountain that Jesus Christ has risen.  Through the pain of the past weeks, through the suffering, we can also celebrate the joy of our Risen Savior Today. 
As you know we are all dealing with some Pain and Suffering ourselves as we listen to the story of over 130,000 people dying from Covid19. 
But I can say Thank God for Jesus, because although there are over 2,900,000 infected, the great news is 500,000 have recovered.  You can now see the joy, because though there is Pain, we are able to realize the Gain of those who have recovered and have or will be going home to their family soon.   But know that I don 't need you to get complacent and stop Social Distancing, and take a drug without reading the prescribing instructions and adverse reactions it could cause, because know the Devil is here to "Kill, Steal, and Destroy" and will try to take your joy away from you.   
But as I read the story of Jesus Triumph entry into Jerusalem, I wondered what Jesus had to go through.
Paul is saying in Romans 8:18 – For I reckon that the sufferings of this present time [are] not worthy [to be compared] with the glory which shall be revealed in us.
Remember, at the end of pain and suffering, you will find happiness and joy.  The Glory will be revealed to us.  It is the other side of the spectrum.  You don't know when you are going to get there, but it is coming, because God promised it.
When I did my studies from Webster Dictionary and Google, it says that Pain is an unpleasant feeling often caused by intense or damaging stimuli, such as stubbing a toe, burning a finger, putting alcohol on a cut, bumping the "funny bone" or being in an Accident.
Pain should motivate you and be a message to us to live life to its fullest, believe in God and His heavenly Angels and Love on one another.  
In other words, No Pain, No Gain.
But my studies also help me realize, Besides just pain, There are many things can motivate us to change, that include things like ambition, money, security, recognition, status, power or prestige. 
But the greatest motivator in taking action to bring about change is something known as "Pain."
If you have hunger pain, You are motivated to find something to eat. 
No Pain, No Gain.
If you realized pain of a storm coming, you are motivated to find Shelter. 
If you understand you can get sick by not social distancing, you experience the heartache of being shut in.
If you are experiencing the pain of no money, You soon get motivated to get a job. 
If you experience enough physical pain, You are motivated to see a doctor.
The bottom line, If we are in a situation that is painful, we seek ways to rectify, reconcile, or remedy it.
In other words, No Pain, No Gain
Pain though unpleasant, is a strong motivator and can be a call to action.
I'm not only talking about physical pain, but emotional pain.  We all have to be able to remember His Pain, to realized the Gain. 
If you can just visualize for a moment the Pain and the Gain of Jesus Christ, then you will understand my point.
In Luke 19 and 46, I learned it was a Monday, When Jesus arrived at the Temple, he found the courts full of corrupt money changers.  He began overturning their tables and clearing the Temple, saying, "My Temple will be a house of prayer, but you have turned it into a den of thieves."  Letting me know that it is okay for a Christian to get a little upset at times.  Jesus was lashing out from the Pain of what he was seeing and experiencing.  You know, It is okay to push back on some things that just isn't right.  After all Monday for most folks is the day we go back to Work, and is often the most difficult and most painful day of the week.   But with God's Grace we are able to Gain by getting ready for another day. 
On Tuesday morning, Jesus left the city and went with his disciples to the Mount of Olives, which sits due east of the Temple and overlooks Jerusalem.  Tuesday was a day of Pain where Judas Iscariot negotiated to betray Jesus.  Tuesday, is usually the day when whatever is going to go wrong on a job, will go wrong.  Some people call it Murphy's Law.  "Anything that can go wrong will go wrong."  But the Gain is we can look forward to Wednesday. 
On Holy Wednesday,  or what is better known as Hump Day.  This is known as the midpoint of the week.  In other words, we have made it over the hump and weekend is in sight. Not one book said what Jesus did on this particular day.  Most scholars believe after two exhausting days in Jerusalem, Jesus and his disciples spent this day resting.   Over the past few days he experienced the gain of a Triumph celebration and he experienced the pain of his potential portrayal.  I imagined he was tired.  He needed a break.  As a Christian, after working and laboring in the vineyard, it is perfectly okay to take a day of rest. 
On Thursday, some people call it denial day, some people call it the betrayal day.  After all, it is the day Jesus sent Peter and John ahead to the Upper Room in Jerusalem to make the preparations for the Passover Feast.  That evening after sunset, Jesus washed the feet of his disciples as they prepared to share in the Passover.  The Instructions for Communion was established or its official name the Eucharist.  The Gain and on this same Thursday, is the day in which Jesus was betrayed by Judas in the Garden of Gethsemane (The Pain).  In the early morning hours, as Jesus' trial was getting underway, Peter denied Jesus three times before the rooster crowed.   The most interested thing for me this day is that Jesus still gave both Peter and Judas a seat at the table even though he knew one would betray him and one would deny him.  Even more Pain and more Gain.
Good Friday commemorates the painful day of false accusations, condemnation, mockery, beatings, and abandonment of Jesus.   How many of us have went through the same things in our life?  If you haven't, just keep on living.  After multiple unlawful trials, he was sentence to death by crucifixion of Jesus and his death at Calvary.
On Holy Saturday, it commemorates the day that Jesus Christ lay in the tomb after his death.  Jesus body laid in the tomb, where it was guarded by Roman soldiers throughout the day on Saturday, which was the Sabbath.  When the Sabbath ended at 6 pm, Christ's body was ceremonially treated for burial.  It is also known as Easter Eve, Easter Even, Black Saturday, or the Saturday before Easter.
In this scripture, you can see Social Distancing. The Bible says In John 20:1-4
— The first day of the week cometh Mary Magdalene early, when it was yet dark, (so she could have hit a wall, fell down a cliff, tripped and bumped her head, but she ran) unto the sepulchre, and seeth the stone taken away from the sepulchre.  
Then she runneth (I imagine tired and in Pain), and cometh to Simon Peter, and to the other disciple, whom Jesus loved, and saith unto them, They have taken away the Lord out of the sepulchre, and we know not where they have laid him (So Emotionally, they were all in shock, they were all in Pain.  (See Pain can be physical or emotional). Peter therefore went forth, and that other disciple, and came to the sepulchre. (In other words, before he shared his excitement, before he said hallelujah, before he believed, he had some Pain). So they ran both together: and the other disciple did outrun Peter, and came first to the sepulchre.
But after all of the Pain, came the Gain that Day.  Some people call it Celebration Day, Resurrection Sunday or Easter, which is the culmination of Holy Week.  This coming Sunday is the most important day and the most important event of the Christian faith.  The very foundation of all Christian doctrine hinges on the truth of this account.
If I want to be mature as a Christian, which is our entire goal, then I don't need to run away from pain and problems, but use them to develop my faith.  We need to be like Mary, Like Peter and Like John, regardless of the obstacles, regardless of the pain, regardless of the peril, we need to Run towards Jesus.
In other words: use the pain as a starting point for action and change.
So this begs me the question that of How can an all-powerful God, who is love, permit his children to face bad situations? 
You need to Know that many characters in the Bible suffered some type of Pain, before realizing the Gain.
Abraham's experience Pain when he set out looking for a city not made by man…
Noah's experienced Pain as he labored for years constructing the Ark.
Moses' experience Pain as he led God's people out of Egyptian bondage.
Joshua's experienced pain as he marched around the walls of Jericho.
Daniel's experienced Pain when he spent a night in the den of starving lions.
The three Hebrew's experienced Pain when thrown into the raging fiery furnace. 
And the bottom line is throughout our lives will we have test, pain, trials and tribulations…..in other words, No Pain, No Gain…. Throughout our lives we will experience pain.
By knowing and applying the promises of God, by staying in close fellowship with God.. by daily prayer…..by being filled to overflowing with the Holy Spirit, by keeping the right attitude towards God and others, as well as yourself……. By knowing from today's scripture that says, "And we know that for those who love God all things work together for good, for those who are called according to his purpose."
So I ask you today, are you willing to go through Pain to get Gain?
Is Heaven worth waiting for, is it worth suffering for, it is worth bearing your cross for, it is worth suffering persecution, is it worth going through Trials and Tribulations, is it worth resisting the devil, is it worth dying for?
Is it worth Trusting in Jesus?  This answer is clearly, "Yes."
Romans 8 and 28
And we know that for those who love God all things work together for good, for those who are called according to his purpose
Join Us in the comfort of your own house!
For more information, visit our page Listen to our radio show